Louis "Press Preston Huddleston (1870-1956) began working for The Atlanta Journal as a young man in the 1880s as a printer and moved over to work in The Atlanta Constitution building that sat at the southeast corner of Alabama and Forsyth in 1900 where he was the real estate and industrial news editor for many years. At his passing he was remembered  as an "ornament to the newspaper life in [Atlanta] and in many ways exemplified citizenship at its best."
Huddleston was also involved in city government having served as secretary to Mayor James Woodward during his administration and as a city council member during the administration of Robert F. Maddox. For a short time in the 1920s Huddleston was the advertising director for L.W. Rogers (grocery) Company that later become Colonial Stores, Inc.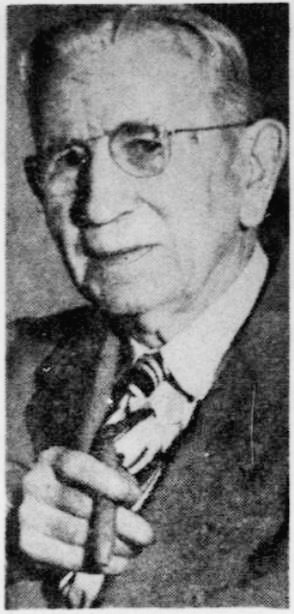 In late December 1947, when The Atlanta Constitution moved across the intersection to a new building at the northwest corner of Alabama and Forsyth Street Press Huddleston penned a poem to the cantankerous elevator that was summoned to the fourth-floor newsroom by a cowbell. This was not the original 1884 elevator that was said to operate by pullies, but a 1912 model that was still in use in 1947 and beyond when Rich's used the 1884 Constitution building as a warehouse until 1967. Even though Huddleston was not employed by the Constitution in the 1880s, he no doubt rode that first elevator as well as the 1912 replacement.
You can read more about the history of the 1884 Constitution, an article from my lost Atlanta landmarks series, here.
Ole Elevator's Obit by Press Huddleston
Goodbye, old elevator, I shed a tear for you, and give one loving, ling'ring look in bidding you adieu…For with heavy heart…'Tis sad to part…with old friends to ride with friends anew.
So, we move today, and leave you all alone…For years you've handled us as if we were your own…But now, old friend…You've reached your end…No patrons to carry with grumble and groan.
Back in the 'eighties, your first year of use…You traveled your shaft without electricity juice…Used a trusty old rope…You yanked with the hope…It would land us all safe with little excuse.
You have hauled up and down men and women of fame…Governors, presidents – they all looked the same…Editors, writers, printers, all…you have carried us at our call…And for your safe ups and downs you leave a good name.
Of course, I remember, at times you were slow…When a crowd down below was waiting to go…Up only one flight…But it seemed all night….Before you appeared – well, to them it seemed so.
Quite often I've tried to sum up the cost…Of the time our employees have waited and lost …Waiting for you…To come into view…After ringing and ringing twenty times at the most.
But you've carried big loads – men heavy and fat…Like Skinner and McGill, and folks such as that…As they "squoze" in the door…At the brainy fourth floor…And you dropped to the basement in two seconds flat.
So, farewell, Old Friend – let me call you deceased…From your up and down trials you are finally released…I will always remember…'Eighty-five in December…For the thrill of my first ride in you has never decreased.
You can read more about the history of the 1884 Constitution building, an article from my lost Atlanta landmarks series, here.