I love the beach.
The sand, the sparkling water, the sound and smell of the pounding surf, walking the beach with my head down hoping….hoping…. hoping for the perfect shell find.
The beach at morning…the beach at night…seafood…even the sunburn…I love it all.
I miss the beach, and I'm most certainly convinced the beach misses me when I'm away.
I hope we can reunite soon, until then I soothed my longing for the beach by doing a little research regarding Harry Truman's White House at the beach.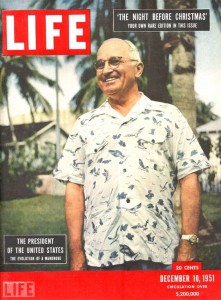 Ronald Reagan, Richard Nixon, Lyndon Johnson, and George W. Bush all had their own versions of the Western White House. Franklin Roosevelt had his Little White House at his beloved Warm Springs, Georgia, and Ike had his Camp David – even though every President back to Franklin Roosevelt used it at one time or another, but did you know Harry Truman had his own little White House get-away spot as well?
The location of Truman's other White House is just about as southern as you can get – Key West, Florida, and according to Margaret Truman in her book, Harry S. Truman (1972), the place was a location where President Truman could get away from the pressures of his office during his years as president.
President Truman's first trip to Key West was after World War II when he was trying to get over a cold. He would end up visiting his version of "The Little White House eleven different times between 1946 and 1952. More details regarding these trips can be found in the Presidential Logs found at the Truman Little White House website.
Margaret Truman writes, "Where does a president vacation? It was no small task to find a place that could accommodate 20 or 30 reporters, a staff of 16 and another 15-16 Secret Service men. After some investigation Dad made a choice which he never regretted – the submarine base at Key West, Florida." Some sources state Fleet Admiral Chester Nimitz suggested the Key West Naval Station as the perfect climate to help the ailing President.
The base is formerly known as Key West Naval Station, and the quarters President Truman used were known as Quarters A and B. President Taft had used the quarters in 1912, and Thomas Edison lived there in 1918 when he was in the process of inventing new weapons during World War I. The site actually dates back to 1845 when it was known as Fort Zachary Taylor, and today is often referred to as the Truman Annex.
In a letter from Truman written on November 18, 1946 he wrote to Margaret and Bess, "They put me up in a southern built house with 'galleries' all around, upstairs and down. It is the commandant's house – and at present there is no commandant – so I did not 'rank' anyone out of his house."
President Truman continues, "I have arranged my schedule so that I get up at 7:30 (2 hours later than I usually do), swim, breakfast at 9, [visit a] nice sand beach and get some sun and water [and head back to the house by] noon with lunch at 1 pm. Lunch is followed by a nap, followed by conversation and then dinner at 7. I go to bed when I want to and get up and do it all over again."
"I am seeing no outsiders. From now on I'm going to do as I please and let them all go to hell. At least for two years they can do nothing to me and after that it doesn't matter."
Of course, two years later he won the 1948 election giving history one of the greatest election upsets of all time since everyone was certain his opponent, Thomas E. Dewey, would win. Immediately after the election President Truman was joined at Key West by daughter and wife.
Margaret Truman stated in her book the highlight of the trip was an impromptu victory parade by White House reporters and aides in reaction to the election. She stated, "Everyone wore the wackiest costumes. Charlie Ross, [President Truman's Press Secretary,] wore bathing trunks and an Abraham Lincoln hat."
The atmosphere at Key West was very relaxed and fun. President Truman was known to hand cards to visitors that read, "Don't go away mad….just go away."
I need some of those, don't you?
He spent some time fishing with visitors including Admiral Leahy. At one point President Truman was speaking to the press and referred to the admiral by stating, "You know how these admirals are. They get so they can't do anything without an aide, even baiting a hook."
President Truman also enjoyed swimming in the surf while the Secret Service remained on the beach watching his every move. When a wave trounced Truman while swimming he went under. The Secret Service agents jumped in sunglasses and all. President Truman was unhurt but his glasses had gone missing. He wasn't very worried since he had several reserve pairs, but the agents were determined. Margaret Truman writes about the dedication the Secret Service had to finding the missing glasses, and how amused she and her father was at their efforts. Later Truman saw something glittering in the surf. The glasses had washed up on the beach.
The fun continued on December 8, 1949 when the White House reporters were assembled for the daily press conference. Several were nursing hangovers according to Margaret Truman from the night before.  She states, "But they woke up fast when the President of the United States arrived flourishing his cane and wearing his white pith helmet and one of his wilder tropical shirts. He went right into the mob and took a seat. It was only then they noticed he was armed with a pencil and a sheet of Western Union message stationary."
Charlie Ross announced, "Gentlemen, we have with us today as our guest a distinguished contributor to the Federal Register."
Truman took notes as Charlie described the activities the President had been involved with so far that day – eating breakfast and sitting on the dock.
Truman began to ask the reporters various questions posing as the distinguished visitor. The questions involved what time the reporters had gone to bed the night before, what they had eaten for breakfast, and had they written to their wives in the past week. Truman also asked the proverbial question every reporter at the time would ask upon arriving in a new place – Where can I get a check cashed?
His time away in Key West gave President Truman the time to talk about things he dearly loved. Margaret Truman relates an evening where her father showed off his vast knowledge regarding military battle history. He asked the waiter to bring out four place settings of cutlery and used them to outline the various points of 14 major battles in world history without referring to any books or notes. The next morning he regaled his staff for two hours with a survey of world religions.
Serious business occurred in Key West as well. Truman's Little White House website advises: "While [in Key West], President Truman discussed the Marshall Plan to rebuild Europe, the Truman Doctrine that changed American foreign policy, and the recognition of the State of Israel. In 1948, the Joint Chiefs of Staff met at Truman's vacation get-away to create the Department of Defense by merging the Department of War and Department of the Navy…He wrote his fourth Civil Rights Executive Order requiring federal contractors hire minorities and he drafted a letter that  called for a two week cease fire in Korea. The reaction of General Douglas MacArthur to this letter led to his dismissal as Allied Commander."
While vacationing in Key West, Truman made the tropical shirt quite popular. You can see a gallery of them here.