A few investors were behind the magnificent Sweetwater Park Hotel in Lithia Springs, but Edwin W. Marsh and Samuel M. Inman were the primary figures.
I felt it was time that I found out more about them.
Edwin W. Marsh is remembered as an extremely successful dry goods merchant. He was born in North Carolina in 1824 yet spent time for several years as a merchant in Chattanooga, Tennessee. He transferred his business to Atlanta in 1863 when he was 39.
Besides his efforts at the dry goods trade, Marsh also had controlling interest in the newspaper, Southern Confederacy, which relocated to Macon during the Union occupation.  Following the war, Marsh's dry goods store was the first one to re-open in the city. He developed an extremely prosperous business and invested heavily in real estate.
I could go on and on regarding his accomplishments as there are many…..including the first cotton factory established in North Georgia at Trion.
He was unbelievably wealthy, so it's no surprise he would invest his time and dollars in resort in Douglas County.
I've scoured the Internet looking for a picture of E.W. Marsh, but have yet to find one. He was laid to rest at Oakland Cemetery in Atlanta. Photos of his ornate mausoleum can be found all over the place.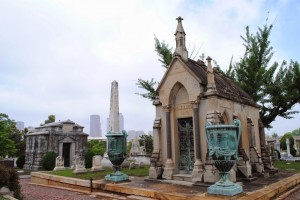 Samuel M. Inman was born in Tennessee to a wealthy planter family. He attended college at Princeton, and fought in the Civil War. Like many, the Inman family was hit hard by the war and found it necessary to relocate. They headed to Georgia where they acted as bank agents, merchants, and a cotton factoring concern with his father called the S.W. Inman & Son Cotton House.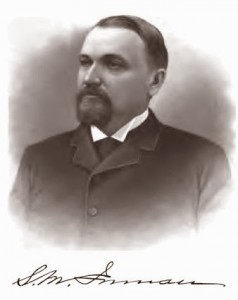 Like many former planters, the Inman family took the changes the New South brought head on and went into business. Eventually, the Inman family became very influential and powerful again. Samuel M. Inman's brother was John H. Inman, the head of the company Inman, Swann, & Co. of New York and president of the West Point Terminal Company which controlled 11,000 miles of track and $4,000,000 in steamships. Another brother, Hugh T. Inman, owned the  Kimball House Hotel in Atlanta.
Samuel M. Inman entered into a partnership with Joel Hurt in the 1880s to form the East Atlanta Land Company. Their main venture was to develop Inman Park, the beautiful Atlanta neighborhood that still exists today. A second venture included the Atlanta & Edgewood Street Railroad. While today we think of Inman Park as a downtown neighborhood, it was originally outside of town. The railroad provided a way in and out of town for residents, a huge selling point.
By 1889, Inman was involved with the Inman System, a group of nearly all of the railroads across the southeast. He was also involved with the beginnings of the Georgia School of Technology or Georgia Institute of Technology as it is known today. His put up his own money to get the ball rolling plus was able to secure other money donated by investors and the city of Atlanta.
At one point it is thought Inman was worth around $750,000 to $1,000,000. He was on many boards and gave much of his money to charity.
Like Marsh, it's no wonder that Samuel M. Inman had a few extra dollars to invest in a resort hotel in Lithia Springs.
They didn't even miss the money.