My first column for the Douglas County Sentinel appeared March 28, 2013, so give or take a week or two that's a total of 156 columns I've written regarding Douglas County history.
Some columns come to me easier than others while others are pure torture to wring out of my fingers for various reasons. I'm a notorious procrastinator, a bit lazy, and sometimes I'm just a bit overwhelmed with other hats I wear in life Many times a column begins with one bit of information someone shares with me. I also launch research based on a blurb in a newspaper or a mention of Douglasville or Douglas County in a book. I try to take those bits of information and dig deeper for the story behind the history by peeling back the layers of information to get a complete picture.
Some of these stories take a few hours to flesh out, while others take weeks and even months to get the whole story, or at least a story I'm satisfied with.
I often become very invested in these stories as I discover the details. I become very involved with each cast of characters whether they are long dead or still move among us.
Sometimes after hovering over and nurturing a column for what can be several months, I'll let it go.
To be truthful, it just about kills me to let go.
I finally hit the send button and move it along to Ron Daniels, the editor at the Douglas County Sentinel. I finally decide to trust folks to read my words hoping they will learn something, hoping they connect in some way to my words, and hoping they don't hate it.
Take my recent column (February 14, 2016) regarding Grover "Lee" Holloway, for example. I eventually discovered his life ended far too suddenly, and I was shocked.
After spending so much time researching his story, it was like I had lost a friend, and was compelled to tell his story for some reason.
It just wouldn't leave me alone.
In 1939 folks in Douglas County were awfully proud of Grover "Lee" Holloway as it was announced he had been hired as a pilot for Delta Airlines.
While I don't want to repeat my entire column here I did relate how Mr. Holloway had been involved with the Civilian Pilot Training Program at Atlanta's Municipal Airport where he taught Georgia Tech students to fly.
Mr. Holloway taught at the Eastern Air College which was one of the first air colleges in the United States to receive a government contract to teach college students to fly. There were a total of eleven schools associated with the program including Georgia Tech, the University of Michigan, and Tuskegee Institute.
The Civilian Pilot Training Program was introduced by President Franklin D. Roosevelt in December, 1938 with the goal to provide civilian pilot and mechanic training to 20,000 college students a year and thereby increase the military preparedness of the United States.
Sadly, almost nine years after being hired by Delta he was involved in a horrible plane crash. On March 10, 1948, Grover "Lee" Holloway was the captain for a flight on a DC-4 departing Chicago's Municipal Airport heading to Miami, Florida.
The flight had a total of thirteen on board with four of those being crew members. As the plane lifted off the Chicago area was experiencing snow flurries.
Within a few seconds as the plane reached an altitude of 500 to 1000 feet something went terribly wrong. The plane came straight down in a vertical dive near 55th Street and Cicero Avenue.
It was a fiery crash with 12 of the 13 on board perishing including Captain Holloway. The only survivor, Mrs. Tripolina Meo of Oaklawn, Illinois, was pulled from the wreckage with both arms and both legs broken. She was screaming for her seven year old son whose remains were later found in the arms of another female passenger.
The day after column ran, I got an e-mail from the paper. A gentleman had stopped by the Sentinel offices looking for me.
Uh-oh.
He wanted to discuss my column. 
I finally connected with J.W. Allen by phone. He informed me he was in his 90s, and he was a bit shaken by my column.
I had included this photo from the crash scene, and he said he recognized the event the minute he saw the image without reading a word.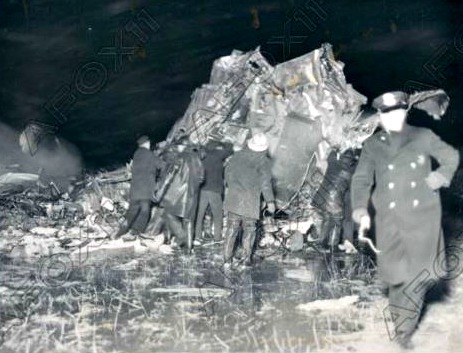 Instantly, I thought Mr. Allen was either a childhood friend of Holloway's or a relative, but they had never met.
What he related to me was one of the most ironic connections I've run across since I began writing full-time.
Mr. Allen had been a pilot based in Atlanta. He moved his family to Lithia Springs in the 1970s so his daughters could have a few horses. Prior to becoming a pilot, he worked as an airline mechanic and on March 10, 1948 he was in Chicago.
In fact, he was one of the first men on the scene.
I know he was telling me the truth because he related several gruesome details of the crash scene that I had learned through my research, but chose not to include in my column including the fact that a sheet of metal had to be removed that was covering Mrs. Meo in order to get to her.
Mr. Allen was one of those men who helped to remove the sheet of metal and told me first-hand how distraught she was regarding her child.
Mr. Allen repeatedly told me his age and how surprised he was that all these years later – some sixty-eight years later – he could remember every detail of that night including the smell.
I told him how Holloway's story affected me and how I felt I HAD to include it in my weekly history of Douglas County, and how sorry I was that I had brought up a terrible memory for him.
We finally decided that for some reason after all this time, Mr. Allen was meant to re-visit a terrible episode in his life. Perhaps it was merely to discover who the pilot of the plane happened to be.
The irony astounded us both that Mr. Allen was at the crash site, and though he never knew the pilot of the plane and didn't know where the pilot was from, Mr. Allen ended up living in the very same town where the pilot grew up.
Who needs fiction when the real history is too ironic and interesting for words?
This is one episode that will stay with me for a while…