As an educator I've seen this particular image of Susan B. Anthony several times in books, magazine articles, and blog posts. Since the photo is archived with the Library of Congress it's easy to find and use, but the other day I discovered something that connects it to my home – Atlanta, Georgia.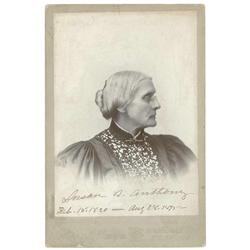 The photo was taken in Atlanta during the 27th annual convention of the National Women's Suffrage Association held at the DeGive Opera House  between January 31 and February 5, 1895.
A blurb in The Atlanta Constitution for February 10, 1895 mentions Susan B. Anthony was so pleased with the image she ordered 500 of them to be mounted on cards (as you see in the image above) so she could forward them to her friends.
Of course, given the reason why Susan B. Anthony was in town the photographer was a woman – an Atlanta woman!
So, if you haven't already guessed my purpose for this article isn't Susan B. Anthony or the suffrage convention held in Atlanta.
It's the woman photographer – Linnie Condon-Hendricks.
I stumbled over the photos taken by Mrs. Condon-Hendricks as I do most everything I write about – totally by accident while I was researching something else.  I ran across this image in the online archives of the Atlanta History Center.  The glimpse of the porches holds such promise.
I'd like to see the entire home.
The image is dated 1890, and the notes state that the home sat on Spring Street between Linden Avenue and Baltimore Place. The only people identified are in the carriage. The adult is Linnie Condon and the little girl is Katherine Walker.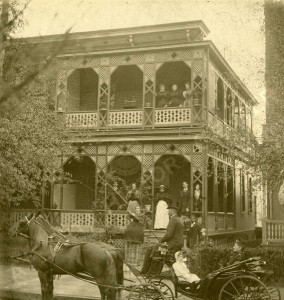 The photo caught my eye because even when I was a little girl in the 1960s Spring Street was anything but residential. I did a quick search regarding Linnie Condon and discovered she was considered to be one of the best women photographers in the United States at the turn-of-the-century.
At that point I went down the research rabbit hole where I seem to spend much of my time.
Linnie Condon was most certainly a woman before her time. She arrived in Atlanta via Louisville, Kentucky in 1890 fresh from a divorce from Thomas Condon and after gaining some notoriety for a series of photographs she took detailing damage from a Louisville tornado.
After paying her first  photographer's tax in Fulton County in 1890, Linnie Condon moved into a studio at 83 1/2 Whitehall Street
She quickly established herself as THE photographer for women and children, and she knew how to lure them in, too. In 1886, she advertised  she had a Christmas tree in her studio described as "the prettiest in the city, decorated and arranged by Mrs. Condon herself". Every child who visited her studio would receive a gift.
In 1895, not only was she the photographer for the Suffragist Convention, she was the official photographer for the Board of Lady Managers for the Cotton States and International Exposition. Linnie Condon-Hendrick's photos were included in Walter G. Cooper's official history of the Exposition.
The  Atlanta Constitution advised on April 10, 1899 that it "was a romantic wedding" when Condon married Ambrose L. Hendricks on the morning of April 9th. It was also a "complete surprise to friends" as the engagement had been secret.  Hendricks worked with Condon in her studio. After a honeymoon to Puerto Rico it was back to work for both of them as they planned to "conduct the studio jointly".
On September 3, 1900, Condon-Hendricks opened a new studio on over Jacob's Pharmacy at the corner of  Whitehall and Alabama Streets. The Atlanta Constitution advised the studio would take up all three floors – the first being office and reception, the second floor held dressing rooms and studios, ad the third floor gave way to developing, printing, and finishing.
In the photo above looking down south down Whitehall Street right before the Alabama intersection notice the sign going down the side of the building to the left of the telephone pole. If you enlarge it you can make out "Condon Art Gallery" at 23 1/2 Whitehall.
Condon-Hendricks marketed herself  not through advertisements as most photographers, but via written ads that appeared at first glance to be articles about her and her studio
An ad/article for June 30, 1901 titled "June Brides" discusses the exhibition case  meaning the  display window along the street where photos were displayed  showing  "prominent young society people and recent brides" and earlier newspaper articles mentioned the "well-appointed wardrobe" the studio kept on hand for "ladies who came to the city unprepared for having their pictures made". They "could be fitted in an elegant evening suit."
A Glamour Shots location a bit before its time!
At some point she was so popular charlatans employed schemes to capitalize on her good name as this ad claims.

Of course, public life is very different than private life as we know, and Linnie Condon-Hendricks was no different. It seems her once romantic marriage had tarnished a bit over time.  A divorce occurred in January, 1909 with Ambrose Hendricks  branded as a habitual drinker. Linnie accused him of cruel treatment and advised her husband had threatened to kill her by drawing a pistol on her.
Two months later Linnie Condon-Hendricks was found dead in her home on March 8, 1909. It was estimated she had been dead for a couple of days. The cause of death was thought to be heart failure. She was found on the second floor of her home with a copy of the afternoon paper in her hand.
Neighbors saw her that afternoon moving furniture into her new home. Workmen had been instructed to return the next morning. Relatives and acquaintances testified at the inquest she was prone to attacks going back several years.
What a sad end for such a fascinating woman! She divorced not once but twice at a time when divorce simply wasn't done. She moved to a city to start over after the first divorce where she had no family or friends and worked her way to the top of a profession during a time when women were not expected to own businesses.
My only quandary comes with her Spring Street house. Notices of her death mentioned she had just moved in to the home at 388 Spring Street. The Spring Street home I posted above was dated 1895 by the Atlanta History Center.  So, I can only surmise that she had two Spring Street homes (plausible), or that the home she was moving into when she died was the same home in the picture, and the Atlanta History Center has the date wrong (very possible).
After sifting through all of the Linnie Condon-Hendricks photos, I only came upon one photo of her….a picture that was placed in The Atlanta Constitution with the notice of her body being found.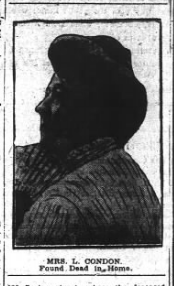 If you enjoyed this post you might like my latest book – Georgia on My Mind: True Tales from Around the State which contains 30 true tales from all around the state including three stories from Atlanta, and yes, there will be volume two out soon! You can purchase the book here…in print and Kindle versions.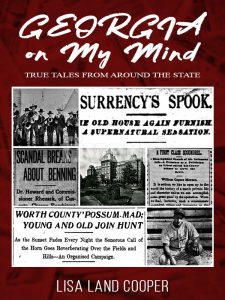 There is a very interesting collection of photos created by Linnie Condon Hendricks at this Flickr page.