When I was in high school there was a girl a couple of years older than me who wore pink every chance she got. We were required to wear school uniforms, but had the choice of adding jewelry and scarves in order to feed the need to be unique and different.
I threw my identity out for others to see by using an antique collar bar gentlemen used to wear to pin various handkerchiefs to the lapel of my "required" navy blazer.  I alternated between a handkerchief my mother had brought back from a trip to the Caribbean and one that belonged to my great-grandmother I had found languishing in a drawer at my grandfather's.
This acquaintance of mine absolutely adored pink. She accessorized with all things pink she could get away with and constantly announced to anyone, much like Shelby Eatenton  in the movie Steel Magnolias, that "pink was her signature color."
Unfortunately, my friend, and even the character of Shelby Eatenton, can't exactly corner the market on credit regarding the signature pink line because a former First Lady has that honor.
Mamie Eisenhower.
Mrs. Eisenhower was the poster child for the perfect 1950s wife and mother.  She made a pretty picture, and American women loved her and wanted to be her.  One source describes her as a soap opera lover who also played Scrabble.  She served TV dinners, wore noisy charm bracelets, and enjoyed listening to Lawrence Welk.  In fact, a Gallup Poll in 1969 determined that Mamie Eisenhower was the most admired woman in the world.
She proudly heralded her role as a traditional housewife by saying, "Ike runs the country.  I turn the pork chops."
Actually, she had people who turned her pork chops, but that is just a minor detail that most American women adored about her.  They also adored the fact that Mamie firmly believed that real ladies once they reached the all important 50-year mark should never leave their bedrooms until after twelve noon.
Now that I am past the 50-year mark, I'd have to agree with her, though most days it doesn't happen.
Mrs. Eisenhower loved pink mainly because it was her color.  She looked good in pink, so she simply surrounded herself with the color.  Her first inaugural gown included 2,000 pink rhinestones and her bedroom was always pink.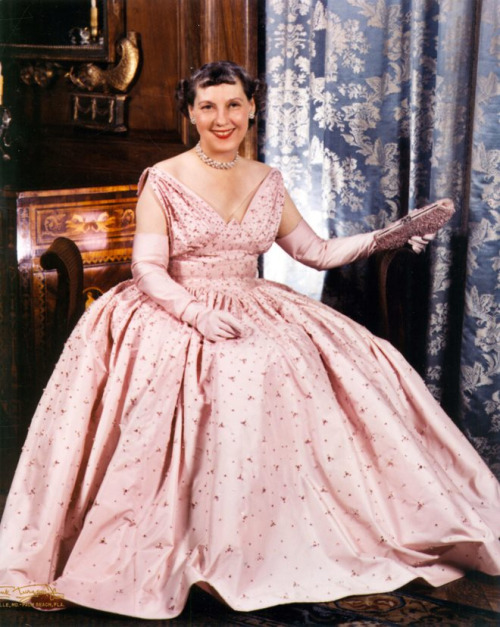 Can you imagine Dwight D. Eisenhower, the hardened soldier, the tough military man Americans often referred to as IKE, sleeping in a pink room?
He must have loved Mamie very much.  In fact, he sent her pink flowers every day.
Prior to being the perfect First Lady, Mamie was the perfect military wife having set up approximately 33 homes at various duty stations through the years.  She performed those moves herself with exact military precision.  To make things easier and to make sure her new home always matched her furniture and decorative items Mamie carried around three sticks with her dipped in the colors green, pale pink, and a shade of cream.  Once she arrived at the new home she would employ painters to transform the rooms to match her belongings including that signature pink.
Her move to the White House was no different.  In fact, so much pink was used in the private living quarters that the press took to calling the White House "the pink palace".
The color was dubbed "Mamie Pink" and quickly caught on across the country and thousands of homes were redecorated or were built with pink bathrooms.  I always wondered why pink just seemed to be the prevalent color for bathrooms in homes I entered growing up that were built in the 1950s or early 60s.  After researching it a bit, I determined that pink was quite a trend in décor and in clothing for women since everyone wanted to be like Mamie.
Once they retired to their first real home in Gettysburg after living in the White House, Mamie once again covered the house in pink including the master bedroom and her bath.  President Eisenhower lucked out with green as his bathroom color, however.
I adore the fact that they both had separate bathrooms, don't you?