We all want historians to stick to the truth regarding documenting historical events, but over time bits and pieces of embellished myths creep into the narrative.
I try to stick to the verified events, but sometimes the unverified is just too enticing, and I have to let the words slip from my fingertips.
Take the story of Stephen Heard and one of his slaves named Mammy Kate, for example. The story I'm going to relate here has absolutely nothing to authenticate it other than the fact we know both of these people existed, but the story is such an interesting sidebar to the American Revolution, I never left it out of my teaching unit back when I was in the classroom.
Stephen Heard (1740-1815) is remembered as a planter, soldier, and a Georgia governor during 1780 to 1781. Heard County was named for him.
Heard was born in Virginia to a prosperous tobacco farming family. All thoughts of formal schooling for Heard went out the door when the French and Indian War broke out in 1754.
The war would last until 1763 and serve as a prequel to the American Revolution. Colonists including Heard earned valuable frontier fighting experience during those years that would serve them well once the American Revolution began.
Heard and his brothers joined George Washington's regiment. Stephen Heard's gallantry on the battlefield soon gained him notice. Washington gave him a promotion and the two became lifelong friends.
Many soldiers received land grants for their war service. Heard's 150 acres was located in St. Paul's Parish, a portion of which would later become Wilkes County.
During the American Revolution most of the settled lands in Georgia were under British control, and the Tories who lived among the colonists were aggressive in their attacks on known Patriots. By 1778, both Savannah and Augusta were in British control. This made the Tories intensify their action to the north – they invaded Stephen Heard's home and forced his wife and their adopted daughter out of the house and into the snow. They ended up dying of exposure.
On February 14, 1779 Stephen Heard took part in the Battle of Kettle Creek. It was a great victory for the Patriots in Georgia. Heard was eventually captured and taken to Augusta and imprisoned at Fort Cornwallis. Stephen Heard would have been executed had it not been for Mammy Kate, one of his slaves.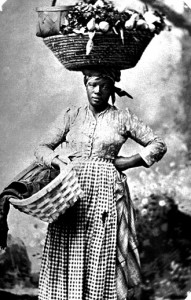 When Mammy Kate heard her master had been taken prisoner, she knew he had to be rescued. She rode to Augusta on horseback using one of Heard's horses, an Arabian named Lightfoot.
Kate convinced the British to allow her to visit Heard after spending a few days gaining their trust by doing their laundry. When she advised she wanted to give Heard clean clothes the British guards balked, but in the end they allowed the woman to visit the prisoner.
After all, what danger could a slave woman pose, right?
The story goes that Mammy Kate took a large laundry basket into the prison with her and convinced Stephen Heard to climb into it. Mammy Kate placed the basket on her head and walked out with the prisoner hidden underneath a few linens.
I'm sure you are thinking what I thought at first. How could a woman carry a man on her head in a basket?
An 1820 letter described Mammy Kate as a very tall and fearless woman. It is also commonly known that slaves carried baskets laden with all sorts of things for long distances.
So, could Mammy Kate actually complete this heroic act?
Yes, I think it's possible.
In 1780, Stephen Heard was elected to the Wilkes County House of Assembly. He was designated as Georgia's governor on May 24, 1780, for just a few months though.
For her troubles Mammy Kate was given her freedom but continued to live on the Heard plantation with her husband, Daddy Jack, who served as the gardner.
After the Revolution Heard received 6,850 acres in land grants about 30 miles north of the town of Washington, Georgia.
He built Heardmont in 1790. Historian Lucien Lamar Knight wrote that the home was "said to be the first lathed and plastered house in that part of the state."
Today, all that is left of the home is the family cemetery named God's Acre located on a 10 acre plot of land maintained by the Stephen Heard Chapter of the Daughters of the American Revolution. If you visit there today you will find Heard family members including Stephen Heard interred there along with Mammy Kate and her husband Daddy Jack.
It's interesting to note that the freed Mammy Kate willed her nine children to Stephen Heard's children upon her death.
Mammy Kate was correctly honored in 2011 as a heroine of the American Revolution by the Sons and Daughters of the American Revolution (article here).
Image Source: http://africa.si.edu/exhibits/grassroots/civilwar.html