A few days ago, I posted an article regarding the naming of Peachtree Street. I have Mrs. Abigail "Abi" Pittman Elder (1832-1928) to thank for the idea since it was her letter to The Atlanta Constitution in June 1909 that sparked my interest in the topic. You can see the full article here.
Mrs. Abi's thoughts on the naming of Peachtree Street are not the only recollection she shared with Constitution readers. Her letter to the editor was full of history tidbits – a hopscotch through early Atlanta history. I share her exact words in italics.
Mrs. Abi remembered there was a collection of pines growing near where Pine Street took its name, and Whitehall [Street] was named after the country residence of Mr. Humphries, a large white house a few miles west of Atlanta, called by the family Whitehall, which was a welcome stopping place for travelers.
Mr. Humphries refers to Charner Humphries (1795-1855) who owned hundreds of acres in what would become West End. The Whitehall Inn & Tavern was a stagecoach stop, post office, tavern, and election precinct located near the intersection where Lee Street and Ralph David Abernathy Boulevard is today. Some say the place took the name Whitehall due to the whitewash used to paint the structure while others say its name harkens back the Whitehall section of London.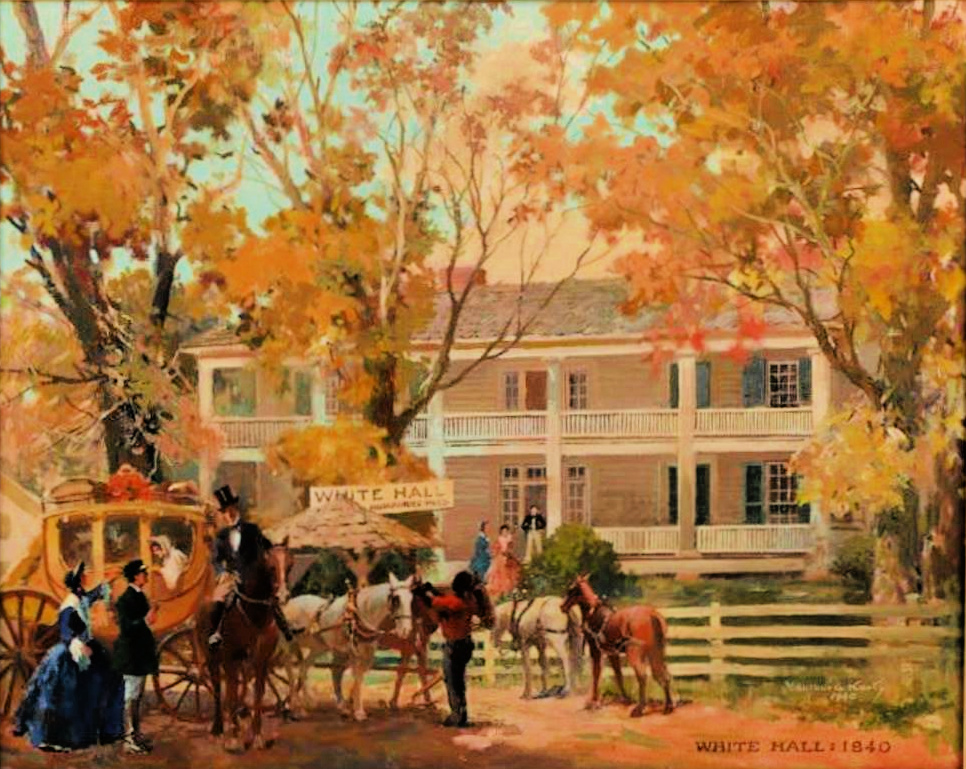 At some point prior to Mrs. Abi's letter to the paper there must have been an incorrect mention of the first fair held in Atlanta being held on the site of Oakland Cemetery. I did not attempt to find the incorrect mention, but Mrs. Abi wanted to make a correction stating as for the first fair being held on the site of Oakland cemetery it is quite a mistake. It was held directly south of Fair Street, from which Fair Street took its name, and east of what is now Hill Street, and took in most of what is now Grant Park, on account of water facilities and the generosity of Colonel [Lemuel Pratt] Grant, who then conceived the idea of making a park for the city.
Mrs. Abi recollected correctly as Atlanta's first fair according to Franklin Garrett's Atlanta and Environs: A Chronicle of its People and Events was held in 1850 when the Southern Central Agricultural Society was looking for a new home for its annual fair. Since 1846 the event at been held at Stone Mountain and was quite popular with folks living in the surrounding counties. In 1849, P.T. Barnum and his wagon show of "animals and freaks," including "Tipo Sultan," the largest elephant then in captivity appeared at this fair per Garrett. The fair's Atlanta debut was held on the southside of Fair Street, S.E. (later Memorial Drive) between Connally and Hill Streets extending south to Clarke Street. Garret goes on to state none of these streets existed in 1850, and the first fair was very successful.
Mrs. Abi continued…There were several monuments in Oakland at the time the first fair was held. One was to the memory of the first wife of the late Dr. Joshua Gilbert, who was a Miss Humphries, of the Whitehall mentioned above; also the Gordon monument, the McDaniels [Philp McDaniel (1782-1850)], [Benjamin Franklin] Bomar (Atlanta's second mayor), General [John] Mims [(1815-1856), mayor in 1853/resigned due to illness,] president of the West Point road [railroad], and many others, some of which have been moved to Westview.
Regarding a monument that was moved to Westview Mrs. Abi mentions above…it was the monument for Hannah Amanda Seavy Gordon (1837-1857) who married W.R. Gordon in 1855. From her Oakland Cemetery Find-A-Grave entry, "For many years her grave was marked by an a large, elaborate "wedding cake" monument, photographed as late as 1870s. It was originally located at Oakland, just southwest of the Austell mausoleum, on a low rise. Today that lot is part of the Hayden-Cone family lot. The monument now stands, without the upper half, in Westview cemetery. Westview cemetery was started in 1884. There are no records available indicating when the monument was moved, or if the body was also moved. No records, either, of what happened to the upper half of the monument. The monument has only her inscription on it, although there are places for other inscriptions, that are blank."
Below are photos of the monument for Mrs. Gordon at Oakland Cemetery in 1870 and later the shorter version at Westview Cemetery.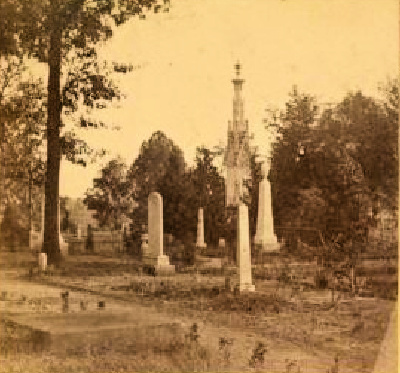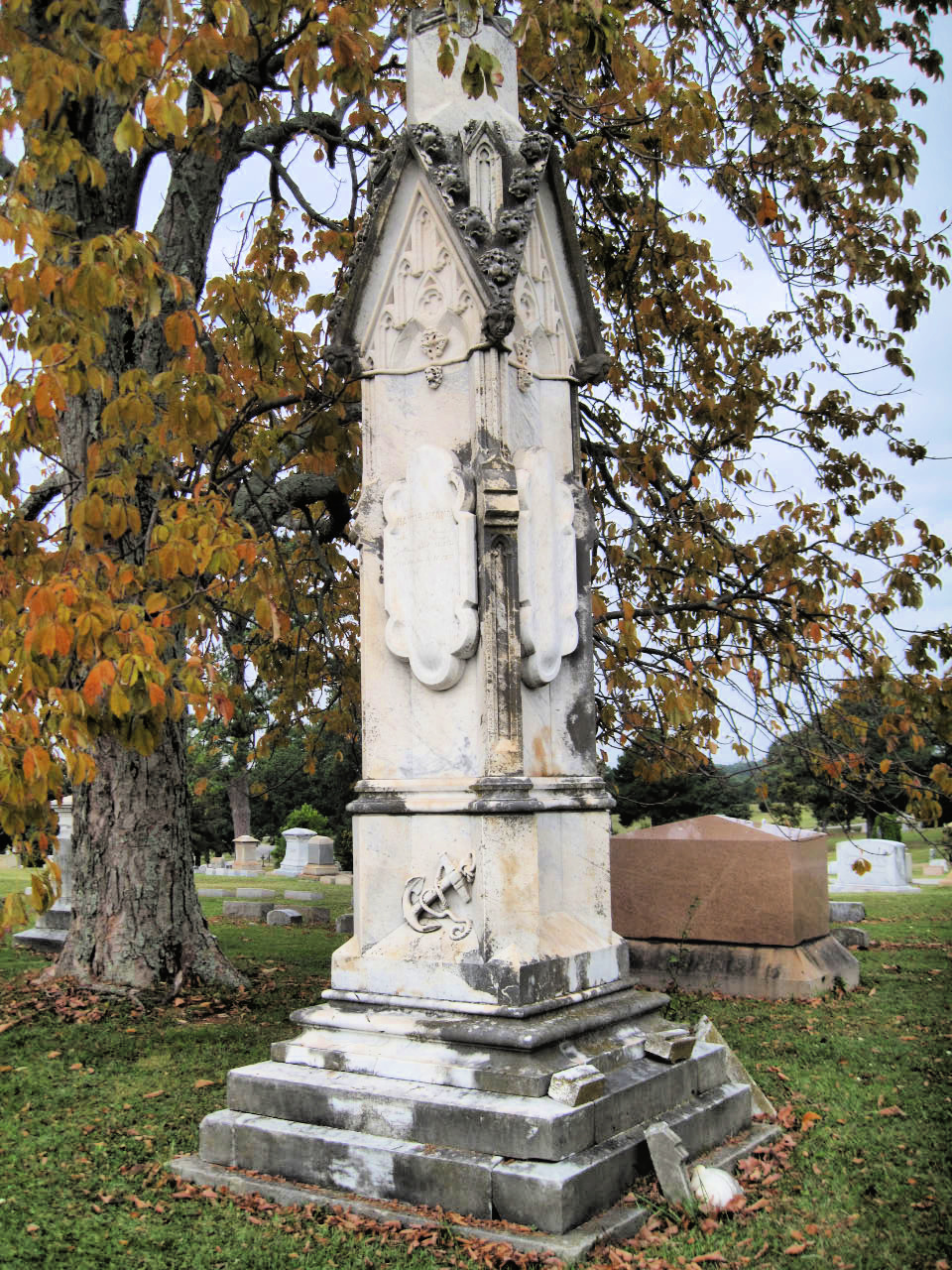 Mrs. Abie discusses her father next saying…When my father moved to Lawrenceville to school us children, we were neighbors and school mates of the Luckies, also visited them when both families had moved to Atlanta. She refers to Alexander F. Luckie (1797-1854) for whom Luckie Street was named. Mrs. Abi's father was Daniel N. Pittman (1793-1871), one of Gwinnett County's earliest citizens. During a portion of the time the Pittman family lived in Atlanta Mrs. Abi's brother – Daniel J. Pittman – was the Fulton County Ordinary between 1863 and 1887.
Mrs Abi further writes the noted Presbyterian divine, Dr. Wilson was my first teacher in Lawrenceville. He moved to Decatur, then to Atlanta. Dr. John Simpson Wilson (1796-1873) began his Presbyterian service in Gwinnett County at Fairview Church in 1824 and was the rector of the old academy at Lawrenceville for fifteen years per his biography at the First Presbyterian Church of Atlanta website here.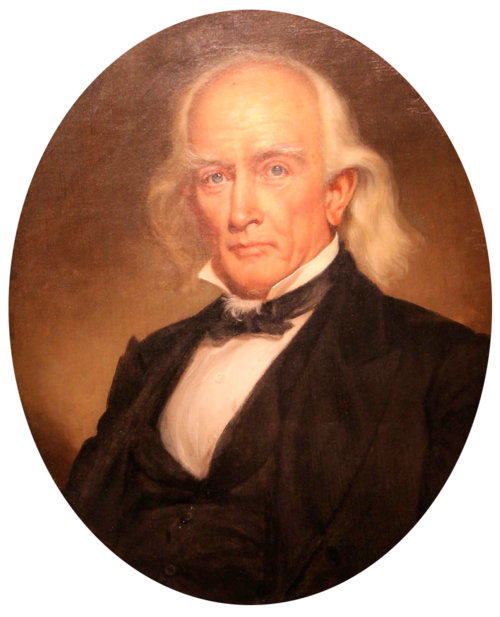 Mrs. Abi would have met up with Dr. Wilson again in Atlanta where he was the pastor of the First Presbyterian Church except for two or three years until he died in 1873. It was Dr. Wilson who preached the first sermon in the first structure that housed the Presbyterian congregation at the corner of Houston and Pryor Streets. It was described as wooden with a chimney on each end and was mounted on high pillars with steps running up to the front entrance that opened towards the south. (The Atlanta Constitution – April 3, 1892 (16) "The Building of Churches")
Before she's done Mrs. Abi calls out a possible source to corroborate what she is saying…There are many people living who can corroborate what I write, among them the mother of Mrs. J.A. Perdue, whose father owned a farm and ferry a few miles above Pinkneyville, near Peachtree Road. The mother of Mrs. J.A. Perdue (John Albert Perdue remembered as being a pioneer in the insurance field in Atlanta) was Julian Rebecca (Howell) Graham (1822-1911), daughter of Evan Park Howell (1782-1868) who did have control of a ferry in the same stretch of the Chattahoochee River in Gwinnett County as Mrs. Abi's father (this is discussed further below). As an added note…Mrs. Perdue's father-in-law was Rev. Francis Pliney Perdue (1822-1886), founder and first minister of The First Christian Church in Atlanta.
The most interesting thing I found within Mrs. Abi's letter to the editor had to do with Native Americans. She says…One of the earliest remembrances was seeing a dozen or more Indians on their little ponies go whooping by one after the other, squaws following in a gallop. They would cross the river, riding into the flat on their ponies and then out and away in a gallop when the boat struck on the other side, whooping and the squaws following, and in a few days, they would come galloping back just as they went, on down Peachtree Ridge, as it was then called. My father owned a ferry, so did Colonel Evan Howell (mentioned above). How the Indians crossed before those flats were made, we never knew. It was in 1832 that the state legislature appointed Mrs. Abi's father to establish a ferry across the Chattahoochee River on his land which was situated between the current towns of Duluth and Norcross.
Finally, Mrs. Abi weighed in on a recent outcry against an effort to rename Buckhead in 1909 saying, Well, I have written enough about Indians, but on Peachtree the cars [streetcars] are now running as far as Buckhead, and there seems to be a desire among some to change the name. As everybody knows where Brookwood is, suppose we call Buckhead, Brookhaven or Peachbloom, or the old reliable name of Peachtree Station, or any name left to the citizens of Buckhead to choose. There is a much older Buckhead of note in Morgan County, and it is often confused with Fulton Buckhead which is one reason why the name should be changed.
So, we know how Mrs. Abi felt, but others felt the Buckhead name should be salvaged. In this article I have placed below from The Atlanta Constitution the writer states, "…Buckhead, with its eighty years and more of life, thus remains one of Atlanta's few unfrocked…As Buckhead Tavern it was a famous station on the old stage coach routes from Augusta via Decatur to Ross's Landing, now Chattanooga, way back in the days when the Cherokees were deported by the Tennessee River to the far west." If you want to read the entire article, click on the image below and use your device's zoom feature.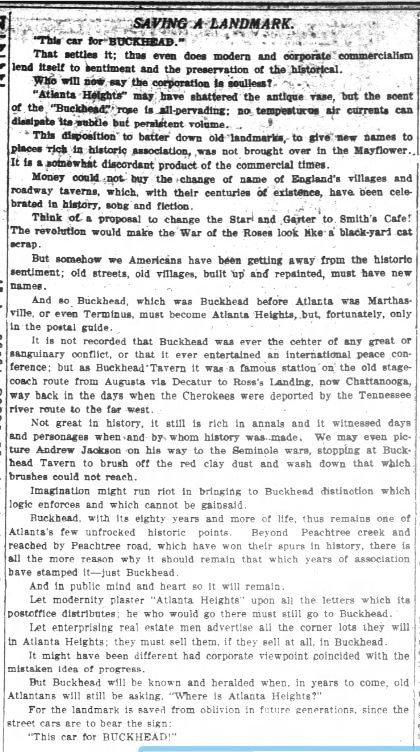 Mrs. Abi was married to Williamson D. Radford "Rad" Elder (1839-1900), the son of Phillip Tigner Elder and Talitha Anna Elder, from old Campbell County. He was blinded at Chickamauga in 1863 and lived out the remainder of his life supporting his family on a Confederate pension and working as a street peddler at Palmetto. Both he and Mrs. Abi are buried at the Fairburn City Cemetery.
Next time I will finish up with Mrs. Abi sharing her memories of helping her father when he enumerated the 1850 census for Gwinnett County, Georgia.
If you enjoyed this post, you might like my latest book – Georgia on My Mind: True Tales from Around the State – which contains 30 true tales from all around the state including three stories from Atlanta, and yes, volume two will be out soon! You can purchase the book here…in print and Kindle versions.