I have a new book coming out any day, so I thought I'd share the cover and table of contents here. This book is the first of a series I'm doing regarding true tales from around the state of Georgia. In fact, the title is Georgia on My Mind – True Tales from Around the State. Each book will have at least 27 tales from various counties plus 3 additional stories from Atlanta's history for a total of 30 true tales. By the time I'm finished I hope to have at least one tale from all 159 counties in the state.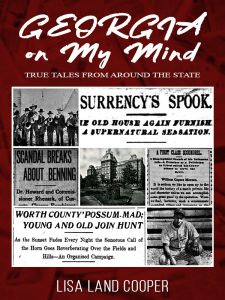 When you pick up a Georgia history book you expect to see certain stories such as how General James Oglethorpe founded the colony of Georgia naming it for the king of Great Britain, how Eli Whitney built his cotton gin at the Mulberry Grove plantation belonging to the widow of American Revolutionary hero, General Nathanael Greene, or how much of the state suffered during the Civil War at the hands of Major General William Tecumseh Sherman during his March to the Sea.
You won't find any of those stories or other "expected" tales in this book, but you will find stories that include:
*A moonshiner who ruled his own kingdom with fear and intimidation
*Two battles – one involving breakfast while another involved a jail
*How one Georgia county lost dozens of young men in a single day during World War I
*How a cannonball fired at Ft. Sumter in April 1861 wound up at one county's courthouse square
*How one Georgia man continually escaped from the state's jails and prisons from the time he was eighteen until he was in his sixties
*How a Comanche Indian maiden took her last breath in a teepee at Atlanta's Piedmont Park
Other stories include boll weevils, a popular medicine in its day known as a female regulator, a poltergeist, and a 'possum hunt for a U.S president.
During my history research I often locate interesting stories from Georgia's history that went viral in their day but are often long forgotten and only told occasionally in the areas where they occurred.
Here's the full table of contests. I hope to have the book live on Amazon (print and Kindle versions) any day and will post the links on my social media pages.
Chapter 1:  Burke County – The Battle of Burke Jail
Chapter 2:  Warren County – Tragedy at Warrenton
Chapter 3:  Washington County – The Strange Life and Death of Mr. Moreau
Chapter 4:  Jasper County – Rousting the Weevils!
Chapter 5:  Oconee County – Thank you! I'll have another!
Chapter 6:  Baldwin County – Mr. Harvey Is Loose Again!
Chapter 7:  Fannin County – Bushwhacked!
Chapter 8:  Carroll County – The Sad Tale of Mary Bagwell
Chapter 9:  Polk County – The Bell Tree
Chapter 10:  Appling County – The Surrency Scare
Chapter 11:  Wilcox County – The Battle of Breakfast Branch
Chapter 12:  Candler County – The Metter Movement
Chapter 13:  Elbert County – Old Dan Tucker
Chapter 14:  Barrow County – Holding onto the Jug
Chapter 15:  Madison County – The Still Hunter
Chapter 16:  Berrien County – The Men from Berrien
Chapter 17:  Worth County – When Worth County Went 'Possum Mad
Chapter 18:  Grady County – The Threlkeld-Drew Affair
Chapter 19:  Chattahoochee County – The Great Military Complex Swallows an Entire County…Almost
Chapter 20:  Marion County – Josh Gibson: The Best Baseball Player You Probably Don't Know About
Chapter 21:  Upson County – Mr. Alexander's War Relic
Chapter 22:  Long/Liberty County – Murder with a Side of Peculiarities
Chapter 23:  Charlton County – Trader's Hill: A Place Long Forgotten
Chapter 24:  Clinch County – Young Joseph and the Henderson Mill Pond 'Gator
Chapter 25:  Tales from the Exposition – The Death of Peh Winne
Chapter 26:  The Murder of Sarah Collins
Chapter 27:  The Count and Countess Germain Turn Atlanta Upside Down
Chapter 28:  Henry County – Hiram Lester, a Henry County Curiosity
Chapter 29:  Coweta County – Done Deeds, Doodle Diggers, and Devil Drivers
Chapter 30: Fulton County – A College for College Park