As many know who follow my efforts at researching and publishing local history I grew up in Red Oak, Georgia, once part of old Campbell County. My father, John Land, was the manager of the West Building Materials store and lumber yard along Roosevelt Highway. I attended Eastern Elementary school in the late 1960s through the 1970s, and my family were members of the First Baptist Church of Red Oak.
Recently, I have become alarmed regarding various threats to local family and long-gone church cemeteries that have fallen prey to vandals such as the Red Oak Cemetery as well as current landowners who want to move graves due to their desire to develop their property such as the Brown-Lester Family cemetery in Fairburn along Senoia Road/Highway 74.
Thankfully, in the case of the Brown-Lester Cemetery, folks mobilized and sent letters to the mayor of Fairburn and showed up at the last city council meeting to voice their opposition to graves being removed to some other location. Family members were also able to voice their concerns that the property owner had blocked their access to the cemetery preventing them from tending to the resting place of their family members.
In writing my letter to Fairburn's mayor I mentioned the graves at this particular family plot are some of the oldest in South Fulton – some buried as early as 1845, some in the 1860s, and the latest burial in 1919. There is also the possibility there are unmarked/unknown graves due to the passage of time or due to inadequate marking. Within this cemetery lie not only the remains of people important to old Campbell County and Fairburn history, but Atlanta history as well.
My letter focused on the grave of Dr. Wade H. Lester since his grave is one of the oldest. At the time I had no idea that I had already researched his brother, Hiram, for my latest book – a set of 30 true history tales from around the state of Georgia…more on that in a bit.
According to Franklin Garrett, esteemed Atlanta historian and author of Atlanta and Environs, Dr. Lester was one of the first businessmen in the fledgling city of Atlanta. In the city's earliest days during the 1840s, Dr. Lester partnered with Larkin H. Davis in some type of "large supply store" at the corner of what was then Hunter and Whitehall Streets ( Atlanta and Environs, page 301).
From what I can tell this business association between Davis and Lester did not last but a few years at best. Davis turned to real estate development in Atlanta as did Dr. Lester mainly in Meriwether County. As early as March and April 1836 ads can be found where Dr. Lester is warning folks to not dealing with Gibins and Silas McGrady of Meriwether County especially if they have documents that appear to be signed by Lester. Below is a copy of the ad mentioning Silas McGrady.

In a 2004 online article online for the Fayette County Citizen, Judy Kilgore Fowler, states she found Dr. Lester to be heavily involved in land purchases both as a buyer and seller when she checked the Meriwether County deed records. Ms. Fowler states her biggest surprise in her research was an entry where "he was acting as attorney for James Heaton, [a Revolutionary War soldier] of DeKalb County and had been sent to Meriwether to claim James' land he won in the 1827 lottery."
Other newspaper mentions regarding Dr. Lester involve him acting as administrator for his father-in-law, William Davis in 1839 through 1840, and having to give up some of this property including a slave due to legal action including a slave named Rachel in November 1843.

The last newspaper mention I was able to find is notification of a couple of letters at the Zebulon post office waiting for Dr. Lester on May 3, 1845. I would imagine one of his children or his wife had to retrieve the letter as Dr. Lester died on May 10, 1845.
More than likely it was some type of sickness that took Dr. Lester. Also buried at the Brown-Lester Cemetery is Elizabeth Lester, born in 1839 and died May 4, 1845. She was just five years old, and her father passed ten days after her.
I've attempted to find some mention of Dr. Lester attending a Georgia medical school, but have failed to find anything. Judy Kilgore Fowler brings up the fact that "…doctor was often used as a given name…and had nothing to do with a person's profession. [Lester] is not listed among the early physicians of Meriwether County…"
Judy's take regarding the word "doctor" could be true as I did some research a few months ago for my history column published weekly in the "Douglas County Sentinel" regarding Priestley Mill Road and how the actual name involved with a mill was not Priestly, but Pressley and somehow over time a mistake had been made. Within the column I go through an entire string of property owners going back to Dr. Perry who won the parcel of land in the lottery. Through the years nothing had been found regarding Dr. Perry. After going back to the beginning and pouring over the lottery records, I finally determined Dr. Perry was actually "Docton" Perry with "Docton" as his first name.
I did stumble over a family story that mentions Wade Lester was indeed a doctor. He delivered a baby in 1835 whose mother passed. Mrs. Lester had a new baby, so the doctor took the motherless child home to her to take care of and nurse. The young boys, Henry Ward and James Lester, grew up to be good friends and even joined up together to fight in the Civil War. This story does match up to the fact that James Lester was born in 1835.
Getting back to Dr. Lester's older brother…
Dr. Lester's father was Isaac Lester who was born in South Carolina on June 15, 1760. At some point during the first decade of 1800, Isaac moved to Baldwin County, Georgia. Dr. Lester was born in 1800, and his brothers included Hiram Jackson Lester, Sr. (1793-1896); Isaac Lester, Jr. (1795-1850); John Lester (1798); Chesley A. Lester (1805-1863); James Madison Lester (1812-1877). There were sisters as well.
It is Hiram Jackson Lester, Sr. who is the focus of my Henry County chapter in my latest book, Georgia on My Mind: True Tales from Around the State. You can click through to check the book out. Hiram's story, based on newspaper accounts, is an interesting one involving fantastic claims and an appearance at the 1891 Piedmont Exposition. I fear he was severely used by men attempting to make a dollar or two. You can click on the book's title to reach the Amazon page.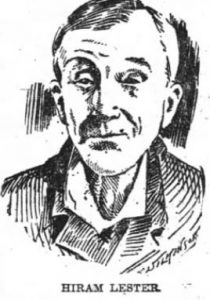 Family members of those buried in the Brown-Lester Cemetery have set up a Facebook group where they can keep in touch with one another regarding cleaning up the cemetery and other issues as they come up. You can find it here.
Recently, I wrote about one of the men buried at the Red Oak cemetery and interred in the Chapman mausoleum. In fact, I'm certain he was the one who paid for and erected the mausoleum which along with other graves has been vandalized over the years.  At the turn-of-the-century John Chapman was a very well known as a bicycle racing star in Atlanta and later across the nation. At one point he was manager of the original Madison Square Garden in New York where he put on several bike racing events. Later, he managed and promoted races before retiring to Palmetto, Georgia where he owned the Velodrome Dairy. You can find my article regarding Chapman here titled The Talented Mr. Chapman.
I'm hoping that something can be done to protect the small family cemeteries and old church burial spots all across South Fulton – old Campbell County. I feel strongly that the only way to get control of the vandalizing and disrespect for old Campbell County cemeteries without several that dot South Fulton is to work with the governments of the cities of South Fulton and Fairburn to identify and mark the cemeteries. In Douglas County, which at one time was part of old Campbell County, we have a cemetery commission where members are appointed by the Douglas County Commissioners. In the beginning their task was to identify the small family cemeteries, mark them, and create a rotation where every single property is visited at least once a year for cleaning, maintenance, and other activities. Sandra Whittington is the sainted chairperson of this commission which often uses a detail of prisoners from the Douglas County Sheriff's office to assist in the mowing and cutting that goes on to maintain the graves of many who no longer have family in the area to maintain the cemeteries.
I truly believe that until a committee of interested family members comes together along with elected officials from the city and/or county entities I've mentioned, we will continue to see these small family plots disrespected and vandalized.
As always thanks for visiting. If you are looking for my books regarding local history you can find all three of them on Amazon listed here including my latest title, Georgia on My Mind: True Tales from Around the State.