I have fond memories of Saturday night when I was in high school and college. Often they were nights filled with drives into Atlanta to see what kind of trouble of the good kind I could find. Some of my regular haunts included dinner at the original Buckhead location of Longhorn's Steak where the original owner, George McKerrow, Jr., might show you to your seat or look across the bar and give you a wave, perhaps a concert at the Omni, the Fox, or a late night showing of "Rocky Horror" followed by an extremely late night or early morning (depending on your point of view) breakfast at the IHOP on Peachtree. These were all places you might find me on a Saturday night way back when, but I'm really dating myself with the reminiscences and the reference to the Elton John song for this column's title.
In December, 1903, a Douglas County citizen had a different kind of Saturday night at the corner of Atlanta's Broad and Mitchell Streets. News reports stated that Robert I. "Hun" Brotherton and M.L. (Middleton LaFayette) Hathcock had "a knock-down drag out beat down fight".
This was nothing new in Atlanta. I've run across all sorts of stories regarding fighting in the streets. My interest in this particular brawl is that Mr. Hathcock happened to be the Sheriff of Douglas County at the time, and a newly elected one at that. Prior to being elected to the office of sheriff, Hathcock had served two years as Douglas County's representative in the General Assembly.
Another connection to Sheriff Hathcock is I lived across Roosevelt Highway growing up in Red Oak from a lady who would tell me stories of old Campbell County. She would often mention her cousin was once the "High Sheriff" of Douglas County, and his name was Hathcock.
According to Atlanta historian Franklin Garrett the….. corner of Mitchell and Broad Streets where Sheriff Hathcock was beaten was known as Roark's Corner from the 1840s through 1866. It was named after William W. Roark who owned a wholesale and retail grocery and wagon yard. After Roark died the property passed into the hands of William H. Brotherton, and the corner then became known as Brotherton's Corner. It was Mr. Brotherton's youngest son who had been in the fight with Sheriff Hathcock.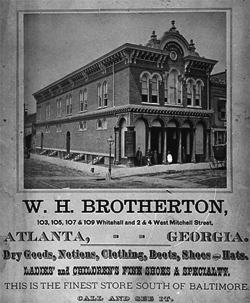 The case was called in the Recorder's Court in Atlanta on the afternoon of December 21, 1903, but neither man showed up. It seems Brotherton stated he was too ill to attend, and Sheriff Hathcock had gone home to Douglasville and would not be able to appear in court for a week. More than likely the Sheriff was at home nursing his wounds as reports state Brotherton got the best of him and gave Sheriff Hathcock a severe beating.
The case was postponed until the end of the month. Finally, on December 29th the case concluded with Brotherton fined $100.75 or was to serve 30 days. Two days later it was reported the fine remained unpaid, and Brotherton was confined to the police barracks.
I'm surprised "Hun" Brotherton ended up actually serving time for his fight with Hathcock as Brotherton's father was very involved in Atlanta politics and served a total of 17 years as police commissioner, and according to Franklin Garret, "Captain Brotherton directed both his store and political activities from an enormous leather chair quite in keeping with his avoirdupois, [a fancy and polite way to say Captain Brotherton was a very large, fat man]. The chair was placed in the center of the store from 6 a.m. to dark where Brotherton would rule his ward.
I need to clarify here that "Hun" Brotherton's nickname didn't stem from the word "Honey". "Hun" referred to his size and his violent behavior as in "Atilla the Hun". I've found a number of reports of violence involving "Hun" Brotherton before and after the incident with Sheriff Hathcock including a barroom brawl in June, 1893 at Harry Spilman's Saloon located at #7 East Alabama Street. In September, 1904 "Hun" Brotherton was arrested at Stephen's Bar on Peters Street for cutting someone with a knife, and in February, 1907 he was charged with assault with intent to murder. Soon after his family "encouraged" a move to New Orleans, and "Hun" Brotherton died there in 1914 at the age of 38.
From what I can see Sheriff Hathcock's term in office was rather a quiet one other than being at the wrong street corner in Atlanta in December 1903 where he met up with "Hun" Brotherton's fists a few times.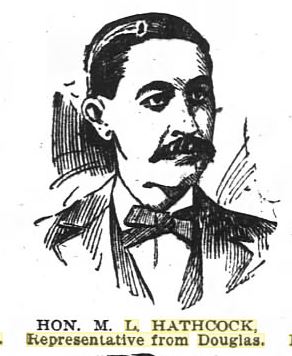 I will add that Sheriff Hathcock won his seat for Douglas County Sheriff under a contested race verses C.W. McGouirk. There were two other contested races during that election cycle that were settled by a court order from Judge Charles G. Janes. His legal decision angered much of the "political machine" here in Douglas County who then sought to smear Judge Jane's reputation. He countered with a $50,000 libel and slander lawsuit that attracted public attention. You can read about it in my book regarding Douglas County history, "Every Now and Then: The Amazing Stories of Douglas County, Volume I".