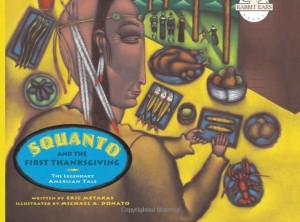 If you are a regular reader you already know that I am interested in how historical events connect and weave together to form our common human fabric. I am continually amazed at how events can have far reaching consequences, some across time, and some simply across town. What at first glance something might appear to be mere circumstance is instead a very carefully woven plan. I believe I know the author of that plan, but of course, that's up to you to decide for yourself!
I always loved to share the story of Squanto with students before Thanksgiving break because his story added detail to the holiday story they already knew. Squanto's life proves certain events and certain people are placed in our paths for reasons. We endure good times and hard times for various reasons. Sometimes we know the reasons immediately, sometimes the reasons are not made clear until later, and other times we are never aware of the far reaching effects of our actions and the people we interact with.
As we journey on through life our experiences teach us various things that we store in our tool belt for life to be pulled out later as we need to recall the knowledge or the skill to help ourselves or others. This process can certainly be seen in Squanto's life – a true American adventurer and hero.
Most elementary students are taught Squanto lived in the area where the Pilgrims first landed, and he helped the Pilgrims learn how to meet their basic needs in their new homeland. While this true, there is so much more to learn about this fascinating man.
His life can be described as a tempest filled with grief, betrayal, as well as adventure. Squanto, of course, never wrote his own autobiography. The sources that contain information about him are few and far between and only give us snippets of his life, but a trail of events can be pieced together.
Squanto was a member of the Patuxet tribe and lived along the coast of New England near where Cape Cod is today. As Squanto became older contact with Europeans was becoming more and more common as various sea captains began to explore the coast of North America. Once the Jamestown colony was established in 1607 other entrepreneur types wanted to get in on the ground floor, and other possible sites for colonies were being investigated. English and French ships were known to fish the waters along the New England coast, and they also traded with different Native American groups for furs.
It was not uncommon for some of the European sea captains to take Native Americans back to Europe with them with or without their consent. These natives were beneficial to the Europeans because they could be taught English and could inform the sea captains regarding important information regarding their homeland. The natives were a wealth of information regarding tribal and chief names, the lay of the land, which tribes were at peace and which tribes were at war. Other information could be obtained regarding crops that could be grown, the climate, rivers, and information regarding safe harbors.
According to the memoirs of Sir Ferdinando Gorges who joined the Plymouth Company in 1606, Squanto was kidnapped and taken to England in 1605 by Captain George Weymouth who was on a fact finding mission regarding resources of the Canadian and New England coast.
In his own letters Weymouth writes that he decided to take a couple of natives back with him but had a hard time controlling them "for they were strong and so naked as our best hold was by their long hair." Gorges confirms Squanto remained in England for nine years actually living with him before returning to the New World during John Smith's 1614 voyage where Squanto would act as a guide and interpreter.
There is a record of Squanto being a passenger on John Smith's ship as he left England to return to the New World in March, 1614 accompanied by a second ship captained by Thomas Hunt. The purpose for the expedition was to hunt for whales and to look for gold. When it became apparent that they were not adept at catching whales and no information regarding gold was obtained, Smith decided to save the voyage by fishing and trading for furs. It is believed that it was during this trip that Squanto was close enough to return to his home for a time. Smith ended up returning to England with a full cargo of fish and fur.
Captain Hunt remained in the area, and it is believed Squanto acted at times as his interpreter. Their relationship, however, apparently deteriorated as Gorges relates in his report A Brief Relation of the Discovery and Plantation of New England confirming that it was at this point Hunt kidnapped Squanto along with others who were lured on board thinking they could trade beaver. Hunt travelled to Malaga, Spain and attempted to sell the Native Americans into slavery for twenty pounds each.
When local friars found out the intended slaves were Native Americans they took possession of them and attempted to instruct them in the Christian faith. Squanto lived with the friars for a year or two before returning to London with an Englishman named Sir John Slaney of Cornhill who was a very wealthy merchant. Slaney was attached to the Newfoundland Company which managed a colony at Cupper's Cove, Newfoundland. While he resided with Slaney, Squanto improved his English and returned to North America to act as an interpreter for Slaney and Captain John Mason, governor of the Newfoundland Colony in 1617.
While in Newfoundland Squanto was recognized by Captain Thomas Dermer who was employed by Gorges and the New England Company. Dermer had sailed with John Smith on various voyages. The captain ended up returning Squanto to Gorges back in England. Gorges promptly took advantage of the situation by organizing an expedition for Dermer aided by Squanto to explore the natural resources of New England and to set up trade agreements with the local natives.
Dermer and Gorges both realized by this time the Nauset and Patuxet tribes had had enough of their tribesmen being attacked and kidnapped by Europeans. The natives had taken to attacking any ship that approached their shores. Records indicate they attacked and burned a French ship that came to close to Nauset shores. Gorges knew that having Squanto along would be beneficial.
In 1619, Squanto and Dermer explored what would one day be Plymouth harbor. It was at this time Squanto discovered his entire tribe had perished at the hands of plague since he had last been home in 1614.
Squanto sadly realized he was the last Patuxet.
His home village was being avoided by other Native Americans in the area for fear of catching the sickness that had decimated the tribes, and there were stories that evil spirits haunted the place.
For a time Squanto continued to work with Dermer but eventually decided to remain with the Pokanokets who lived where Bristol, Rhode Island is today at the invitation of Massasoit, the Grand Sachem of the Wampanoag Federation.
Historians love to banter over which type of plague raced through native villages from 1616 to 1619, but the important item I used with my students is Squanto was the last Patuxet. His village had been abandoned, everything left idle as it was the day the last tribal member had succumbed to disease.
In 1620, however, the Mayflower arrived with men, women, and children. Their original destination had been Virginia, but a storm blew them off course. John Smith had previously explored and mapped this region and is credited with naming the area Plymouth. When a landing party finally went ashore to scope things out they found an abandoned village and decided it would be an ideal location for settlement since it was already cleared.
It was several months before the Native American known as Samoset finally walked into Plymouth and greeted the Pilgrims. It was on his third visit to Plymouth on March 22, 1621 that he brought Squanto with him. Squanto was amazed that Plymouth was located exactly where his home village had been.
The Patuxet village had now become home to the Pilgrims.
The Pilgrims used these initial visits with Samoset and later with Squanto to improve trade relations and to formalize a peace treaty.
At one point Squanto decided to stay with the Pilgrims. His knowledge of the surrounding lands proved to be the saving force of the colony. Squanto showed the Pilgrims where the most fish and eels could be found, as well which berries and nuts were edible. He is credited with teaching the Pilgrims the ways of the Patuxet including their practice of planting beans and corn together. The bean plant shaded the corn roots and kept the ground moist while the corn plant provided a stake for the bean plant to cling to. Squanto remembered as a boy he was instructed to place three fish inside the hill of soil where the corn and beans were planted in order to provide fertilizer for the soil. It was beneficial for Massasoit to leave Squanto with the Pilgrims because he could let the Wampanoag Federation know what the Plymouth settlers were up to.
Squanto's information paid off for the Pilgrims because they were able to celebrate their harvest – the same one we have turned into our traditional American Thanksgiving. Massasoit along with 90 braves brought five deer. The feasting lasted for three days.
The Pilgrims greatly appreciated Squanto's knowledge. Squanto reprised his profession of translator and guide with the settlers as he helped them on many expeditions into the countryside "to discover and view [Massachusetts] bay and trade with ye natives…partly to see the country, partly to make peace with them, and partly to procure their trucke, or barter" per Miles Standish.
At one point when Squanto was away visiting a local village, he was attacked by Chief Corbitant of the Mattapoinset and Pocasset tribes. Records pertaining to Miles Standish indicate many Pilgrim men set out immediately upon finding out Squanto was in distress to "rescue him if he were alive or to punish Corbitant if he had been killed."
Naturally, both the Native Americans and the English trusted Squanto. Both sides left records indicating that later on Squanto used his knowledge of living in both worlds to his advantage to gain even more power and respect. He knew his fellow natives were scared of further plague. He invented a story to tell the natives that the English had buried the plague in barrels under their storehouse. Squanto attempted to control the natives by telling them he would release the plague unless they did what he told them to.
At another point Squanto was accused of attempting to spread rumors of a conspiracy involving Massasoit. Rumors were being spread that an attack by members of the Wampanoag Federation were eminent and Massasoit was involved. The rumors had one source – Squanto.
He was hauled before the English court but was found innocent probably because he "had friends at court" per the diary of Miles Standish. Massasoit demanded custody of Squanto many times since Wampanoag custom demanded Squanto's death, but the English refused knowing what the outcome would be. This clearly violated the treaty the English had with Massasoit, but Squanto's capabilities were invaluable to the Pilgrims.
During a foraging trip on the south ocean side of Cape Code Squanto became ill in November, 1622 – right at 394 years ago. Many accounts differ regarding exactly what was wrong, but they all agree that Squanto began to bleed from the nose and was soon dead.
As I mentioned above I also shared Squanto's story with students by using a video  based on the book Squanto and the First Thanksgiving by Eric Metaxes and consists of pictures from the book with Graham Green narrating it.
Elementary schools generally don't have enough different videos to go around and commonly you present something students have seen over and over every year.
I never had a problem with this video. The music, the wonderful artwork, and the haunting voice of Mr. Green really drew students into the story. You can see the actual video here, and purchase the book here.
The video tells the basics. It doesn't go into many of the extra details I have shared with you, but students learn of the odyssey Squanto goes through in an attempt to get back home. They learn how by coincidence the Pilgrims ended up where they did and settle on land that Squanto grew up on.
After the video we always talked about all the terrible things Squanto had gone through – how scared he must have been, how angry, how confused being someone who had lived in both worlds, and how that knowledge caused him to be used by both worlds, and at one point even corrupted him. Many of the students I taught had terrible things happen to them and within their families. They see things at nine and ten years old I didn't know about until I was in my twenties.
I believe certain people and events are placed in our paths for very definite reasons. I like to share Squanto's story because it provides opportunities to look at myth versus fact as well as issues of character. For many years Squanto bounced back and forth between Europe and New England mostly through no choice of his own, however, his experience, tragic as it is, served a very real purpose. Each life lesson Squanto experienced was filed away in his tool belt to be pulled out later when it was needed. I liked to teach students they all have their own tool belts as well.
My point in our "after video discussion" was bad things happen to everyone. It's how you allow those bad things to interact with your character that makes a difference.
Every moment of our lives, the fantastic times and the horrible times, are part of a dress rehearsal to be recalled during the actual performance when we are needed to do our part. Squanto is an exemplary portrait of someone who understood his role in the dual society he lived in, and he is a valuable American hero to share with students of all ages.
Happy Thanksgiving!