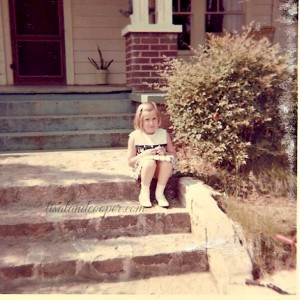 I remember a time when summer vacation actually spanned the months of June, July, and August.
I remember a time when kids ran around the yard at twilight catching lightning bugs while the adults talked "big talk" on the porch.
I also remember those summer evenings as dusk overtook the day when our parents would act on a whim and take us to a drive-in movie or Dairy Queen, even though we were already in our pajamas and bedtime was fast approaching.
Each summer morning I would awaken to an already fiery sun around nine. I would lie there for a few minutes taking in the morning sounds.
Sometimes I would identify the washing machine, the slam of our wooden screen door, or my mother speaking on the telephone.
I never dressed immediately.
Instead I would get up and wander about the house to check out my domain. I'd say good morning to my mother and then prepare my breakfast. Sometimes it would be cinnamon toast or something as simple as saltines spread with just a hint of butter and placed under the broiler.
"Not too long or they'll burn," my mother would remind me.
Breakfast would be served in front of the television that would blare The Price is Right, The $25,000 Dollar Pyramid, and Match Game. I know it's hard to understand today, but you could only find cartoons on Saturdays.
By the end of Match Game I knew it was 10:30.
Yes, I told time and knew what day it was by what was on the television.
It was easier back then, you know. We only had three channels – four or five if the coat hanger with oddly formed clumps of aluminum foil attached to it was turned just right.
By 11:00, I was finally dressed and mounting my bike to survey my outside domain to see if anything was amiss.
My father ran a lumberyard, and our house sat next door. I had a large wonderful world to play in, and had access to plenty of extra lumber to construct some interesting ramps to jump my bike.
By late afternoon the heat would chase my dog and I to the shade of our front porch.
The house I grew up in was built in 1929 and had a very wide front porch that spanned the length of the front of the house. It was a wonderful outdoor room especially on those summer afternoons when it rained.
I'd play "house" or "school" for hours with my dog, Lady, dutifully playing the role of "the baby" or "the student".
Sometimes Lady would want her belly rubbed, so I'd read aloud to her from books such as Henry and Ribsey, Ramona Quimby, Stuart Little, or Homer Price. Lady would lay there all sprawled out listening to me and occasionally wag her tail in amusement.
Then the week would finally arrive for Vacation Bible School. I'd spend each morning for one week with my Sunday people – all the folks I usually saw only on Sundays – the preacher, the choir director, my Sunday School teachers, and all the other people I hugged as I made my rounds.
Vacation Bible School meant more time for hugs.
Vacation Bible School also meant learning more about Jesus, singing songs like Deep and Wide, and crafts. There would be lots of glue, Popsicle sticks, Bible verses and of course, pictures of Jesus that would be glued to construction paper, taken home, and placed on the fridge.
Now, several years have passed.
I not only have my memories of Vacation Bible School as a child, but also have the added memories of both my son and daughter experiencing their own Vacation Bible School classes as students and as teen helpers.
As an adult I've experienced the blessing of helping a few times as teacher, as an assistant, and as "the snack lady".
I've even helped with the two year old class as in changing a diaper ot two and little bodies needing to be watched constantly.
I relate better to older children, and the only two-year olds I ever bonded with are the two that exited from my body.
Still, being with those wee ones was a blessing.
Summers are still special times to me.
I'm slow to wake, and even slower to get my day started. I have a little routine involving time at the gym, time at my desk, time to be out and about doing all sorts of grown up things, but sometimes I wish I had one more morning to wake up as I did when I was eight or nine, one more rainy afternoon on the porch with Lady,  one more trip to Dairy Queen in my pajamas, or one more evening running around the yard catching lightning bugs and hearing my Mom and Dad talking as they watch us from the porch.