Several times as I'm digging in the oldest records of Douglas County I end up in Campbell County records since Douglas was formed from land that had once been Campbell County.
Often as I get into some of the biographical information I see the same phrases regarding Native Americans.  I see things such as "fought the Cherokee Indians a few months and then returned home", "left home for the Indian Wars", and "entered the Indian War".
Indian War?
I thought it was time I dug a bit deeper.
It seems that in 1838 many of the men living in Campbell County left home and participated in one of the darkest chapters of Georgia's history by rounding up local Cherokees and sending them along to a collection point for what we remember today as the Trail of Tears. Sometimes those Cherokees who were rounded up were neighbors and good friends. Sometimes they were family members due to intermarriage between white settlers and members of the Cherokee Nation, but once General Winfield Scott issued his order for all Cherokee to emigrate there was little choice but to comply.
Rueben C. Beavers is just one of the Campbell County men I'm referring to. Today, we remember him as the longtime Ordinary for Campbell County, and as the second owner of the ONLY home still standing at the old town site of Campbellton – the original county seat for Campbell County located just across the Chattahoochee River from Douglas County as you travel down Highway 92 towards Fairburn.
The town site is basically across the street from Charlie's Market as you head down Highway 92 towards Fairburn, Georgia.
Recently, the city of Chattahoochee Hills purchased the Beavers House which dates to 1829-1830 when John F. Beavers, Reuben's father built it. The first session of court and elections for Campbell County were held at this home.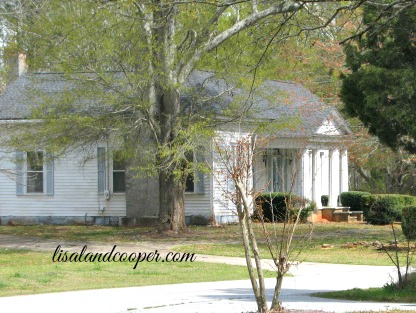 Beavers had joined with Captain James A. Word's company which was part of Lindsey's Mounted Militia Volunteers. They were assigned to an area of Forsyth County to re-establish a fort – a fort they named Fort Campbell – more than likely named for Duncan G. Campbell who was the namesake for Campbell County. Duncan G. Campbell was instrumental in obtaining the Treaty of Indian Springs in 1825 where the Creek Nation ceded all of their remaining lands to the state of Georgia.
Fort Campbell was located where the counties of Forsyth, Lumpkin, and Cherokee Counties meet today close to Scudder's Crossroads. It was named for Jacob M. Scudder (1788-1870) who was a trader and innkeeper and at one point was a member of Georgia Senate. Fort Campbell was one of fifteen collection points for members of the Cherokee Nation and was in operation from April 3, 1838 to June 30, 1838.
You can see Scudder's Crossroads on this map in relation to Campbellton and Campbell County on this 1834 map often referred to as the Tanner Map.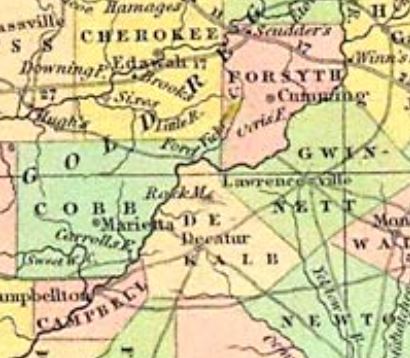 The fort had been located within the Cherokee Nation since May, 1830 when Governor George R. Gilmer decided the gold mines in the area needed protection and asked the Federal government to establish the fort. President Jackson complied and directed the Secretary of War to send two companies of the 4th Regiment to set up a post.
It would be called Fort Eaton in 1830 and consisted of several log buildings including barracks and a blacksmith shop. By October, 1832 the Federal troops would withdraw, but by December, 1832 Governor Gilmer was working on plans to place members of the Georgia Guard there.
In January, 1833 the fort was known as Fort Gilmer when Colonel John A. Sanford and Colonel Charles H. Nelson arrived with their men. They stayed through October. History remembers it was this group of men who arrested and confined temporarily the missionaries Elizur Butler and Samuel Worcester resulting in the Supreme Court case Worcester v. Georgia.
In 1838, Captain James A. Word arrived with his Campbell County men. He initially reported at least 500 Cherokees living within a ten mile radius of Fort Campbell. He also reported that the high number of grog shops in the area concerned him along with the fact they also sold powder and lead with no discretion. The location of the fort near the Federal Road would be beneficial because it gave them direct access to internment camps in Tennessee.
By May 1st Fort Campbell had been fortified, but by mid-May Captain Word was having issues getting the picket work done for lack of tools. The men from Campbell County would have only had the basic comforts.
Eventually, Captain Word spent his time travelling to various Cherokee towns in the vicinity to read General Scott's order dated May 10, 1838. Word was accompanied by his Cherokee translator, a man named Charles Crittendon of mixed parentage. Most Cherokees were not hostile and indicated they would emigrate if that is what their Principal Chief John Ross wanted them to do.
Two of Word's lieutenants who were also Campbell County men – L. Berry Watts and Martin D. Rogers – visited at least one Cherokee town each to relay General Scott's message regarding emigration.
On June 9, 1838 Lt. Rogers escorted 223 Native Americans from Fort Campbell to Ross Landing via Fort Wool which is on the New Echota site in Gordon County today.
In mid-June records indicate the men at Fort Campbell worked for five days rounding up approximately 200 prisoners "without loss of life or gunfire" who were sent along to Fort Wool and then Ross's Landing, too.
Some natives in the area had paperwork which allowed them to stay. Even so, before operations at Fort Campbell were done another ten natives were rounded up and sent along to Ross Landing. In all, it's thought that at least six families were allowed to stay including Scudder's son who had married a Cherokee woman.
Word's entire company returned to New Echota on June 30th for payment and mustering out.  At that point they returned home which for most meant Campbell County.
While most of the men listed on this roster representing the men in Captain James A. Word's company were from Campbell County, there may have been a few from other places. I know that Benjamin T. Watkins of Campbell County was directed by Governor Gilmer to  serve as a Captain at Fort Cumming, so it's entirely possible other Campbell County men served in various locations other than Fort Campbell.
Below I've included a roster of Captain Word's men:
From the list of officers:
Captain James A. Word
Lieutenant L. Berry Watts
Lieutenant Martin D. Rogers
Sergeant James M. Cantrell
Sergeant William H England
Sergeant Joseph Jay
Sergeant Moses M. Smith
Corporal Charles Black
Corporal Absalom S. Longino
Corporal Brantley Sanders
From the list of Privates:
Thomas J. Abbott
William Bannister
Edward Barge
Cyprian Barnett
Isaac R. Bartlett
Reuben C. Beavers
John Bolin
Elisha P. Bomar
Thomas J. Bomar
George Bond
Wilson M. Bryant
Benjamin Camp (b. 1801, died 1884)
John C. Camp (b. 1818, Died 1896)
Isaac Campbell
John Carlton
James W. Cash
John F. Clinton
John N. Dillon
Martin England
Peter Goolsby
Stephen Green
William F. Hanley
George W. Henderson
Osborn Henderson
Michael Howell
Henry H. Hudgens
Daniel Hull
Lewis Hurston
John W. Johnson
Edmond Langley
Peter Leathers
Nathan S. Lewis
James Lynch
Hamilton Mayfield
John McClure
Daniel McInnish
John McMath
John McCormick
Robert McMinn
Green B. Mullins
Miles Mullins
James Miller
William Parrish
Lewis M. Paulett
Armstead Rice
Thomas Royal
George W. Silvey (Born 1808, Died 1861)
David D. Smith
Elisha Smith
James L. Smith
William Stacks
Hiram Strawn
George W. Teel
Kinson M. Thomas
David Torrance
Benjamin Wallis
John W. Wallis
John C. Westbrooks
George J. Wilson
Andrew J. Wyatt
John Wyatt